About Girls in ICT Day 2022
TATT will host the "Tech4Girls: Masterclass on How to Build Your Online Personal Brand! on Saturday 30th, 2022 to commemorate Girls in ICT Day.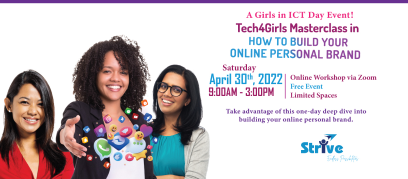 The Authority is mandated under the Telecommunications Act (The Act) to ensure the orderly and systematic development of the telecommunications sector. As part of this mandate, it is responsible for planning, supervising, regulating and managing the use of the radio frequency spectrum.
The Authority has developed the following documents to facilitate the liberalisation of the relevant markets in the Telecommunications and Broadcasting Sectors.
Building a strong personal brand on social media takes more than an attractive professional profile picture and a witty tagline. At the "Tech4Girls: Masterclass in How to Build Your Online Personal Brand" intensive masterclass workshop, participants will learn how to craft and develop compelling profiles and content that resonate with their targeted audiences.
Participants will learn how to effectively optimise online personal branding to create a consistent, powerful, and authentic brand voice. At this workshop participants will learn how to successfully define and communicate who they are across all digital platforms in order to increase their brand awareness and engagement.
Increase brand awareness for yourself/your company.
Effectively communicate who you are and why that matters to entities such as potential customers, clients, and stakeholders.
Build credibility within your career/ industry/ market/ field.
Tech4Girls: Masterclass in How to Build Your Online Personal brand Workshop
To understand online personal branding and its importance.
Develop the capacity to build a roadmap on the core elements of a personal brand.
Learn techniques on how to build and maintain a strong personal brand offline and online.
Learn how to connect your personal brand to your company.
Develop strategies to promote your personal brand.
Females, ages 18 years and older
Must have access to a laptop/computer and the Internet.
Open to nationals of Trinidad and Tobago only.
Tech for Girls 2022 – Toolkit
How to build your online personal brand – E Workbook